ShopAdvisor, a Concord-based company that develops marketing technology to target shoppers on their mobile phones, has acquired Silicon Valley-based Retailigence.
Terms of the acquisition — ShopAdvisor's first — were not disclosed.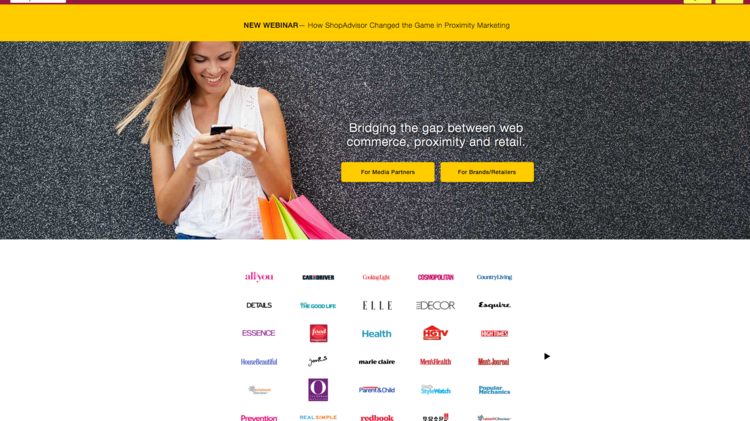 Because of the acquisition, ShopAdvisor will now allow shoppers to discover where products they're interested in are located at brick-and-mortar stores, and in what sizes, prices and colors. Real-time analytics and data science powers the technology behind ShopAdvisor.
The four-year-old company's CEO, Jeff Papows said the technology will only notify a shopper when they have indicated serious interest in a particular product multiple times, through previous searches online.
Retailigence offers real-time analytics about which products are available in which stores. That technology was the motivation for the acquisition, Papows said.
"We can now analyze your more serious shopping proclivities and send you to the right retailer, the right product, at the right time and the right price and tell you what's in aisle seven," Papows said in an interview.
As a result of the acquisition, the combined company's customers include Hearst, Time Inc., Conde Nast, Vince Camuto, Levi's, GUESS, Kmart, Pepsico, P&G and Walgreens.
Papows declined to disclose employee numbers for both companies. But if ShopAdvisor were to allocate between 150 square feet to 200 square feet per employee, the company's 5,000-square-foot office in Concord could hold between 25 and 35 workers.
Though Papows also declined to disclose the amount of investor funding ShopAdvisor has received to date, regulatory filings with the Securities and Exchange Commission show the company has received $7.8 million in funding since 2012, though previous reports said it had raised $11 million. Investors in the company include Robert Davoli, managing director of Sigma Prime Ventures, and Rob Soni, limited partner at Matrix Partners.
Papows became CEO of ShopAdvisor in January and was the CEO of Lotus Corp. between 1992 and 2000. He was most recently the president and CEO of Cambridge-based automated policy management company WebLayers.
He succeeded ShopAdvisor founded and CEO Scott Cooper.
Revenue information was not disclosed, but the company charges each client a monthly fee.
Sara Castellanos covers technology, startups and venture capital.